Beyond Imagination: Virtual Interactions with State-of-the-Art 3D Avatars
Discover unprecedented realism with customizable, true-to-life 3D Avatars
Craft realistic 3D avatars that serve as personal assistants, offering users intelligent, context-aware support in their daily lives.
Shape emotionally expressive 3D avatars that convey subtle facial expressions and body language, allowing users to connect on a deeper level.
Multi-Platform Experiences
Create 3D avatars compatible with a wide range of devices, ensuring seamless user experiences across desktop, mobile, and VR/AR platforms
Customizable and Scalable
Design a diverse range of 3D avatars tailored to your specific needs, effortlessly scaling to accommodate growing user bases and evolving project requirements.
RAVATAR is a comprehensive platform that integrates a wide range of AI services, including AI Avatars, Natural Language Processing, and Natural Language Generation. These 3D avatars excel in real-time communication, delivering accurate and insightful responses, and setting a new standard in virtual assistance.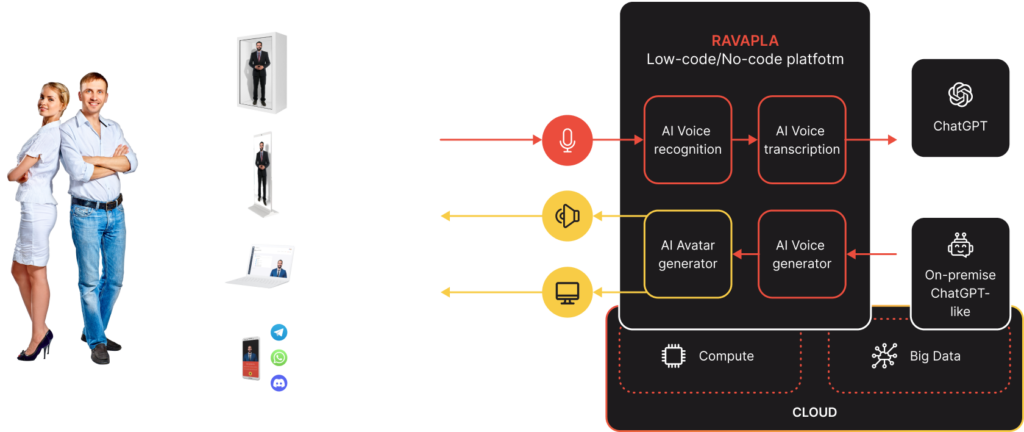 Through advanced customization, interactivity, multilingual support, and ease of integration, RAVATAR enables immersive and impactful online experiences for customers all around the globe.
Unlock the Power of Immersive 3D Avatars – Redefine Interaction – Create Yours Today!