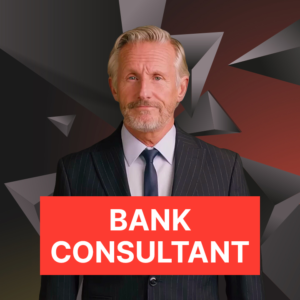 Many banks are already familiar with basic online support systems and chatbots. However, most are still unaware of super-efficient intelligent virtual bank assistants they could leverage to make their services more accessible and flexible.
That's why, today we are going to pay attention to the AI Bank Consultant solution and unveil the transformative possibilities it brings to both banks and their customers.
Below we'll consider the key challenges of traditional customer service, uncover how the state-of-the-art technology of AI avatars can help enhance bank service personalization, and explore the existing use cases of this technology being successfully implemented in real banks.
Challenges of Traditional Bank Customer Service
Traditional customer service makes clients face different inconveniences when trying to manage their finances. Banks, in turn, could struggle to meet every customer's needs and provide high-quality support.
The main challenges for both parties can be stated as follows:
High operational costs

: keeping a team of customer service agents for on-site service and call centers requires significant resources and may hinder the bank's scalability.

Limited availability

: working time of human service specialists is usually strictly bound to specific hours and days of the week.

Inconsistency

: customers may receive different information or varying levels of service depending on which agent they interact with.

Long waiting time

: since the number of clients that can be served simultaneously is limited by the number of service agents employed, long waiting times can occur. This can negatively impact the bank's service assessment and reputation in general.

Lack of personalization

: different-level service agents may not have access to specific bank tools or all the necessary data about clients' finances, in such a way being deprived of the ability to provide the level of personalization that many customers expect.
Overall, traditional customer service limits banks in providing high-quality support and ensures relatively low operational efficiencies. That's why many consumers would definitely opt for technological alternatives if given the opportunity, which is where RAVATAR AI assistants come into play.
So let's see how it's possible to eliminate all these problems with the help of AI-powered digital bankers.
How AI Bank Consultants Improve Bank Service
The first and foremost benefit you get with AI-powered avatars for bank consulting – the 24/7 customer service. They are always there to help any client at any time of the day or night, even on holidays and weekends. Herewith, bank support service becomes highly accessible due to the avatars' ability to communicate with voice and speak the language the client does (which is especially important for international banks).
In addition, virtual service agents do not need a salary, days off, compensation, or training. This way, digital bank assistants make it possible to significantly decrease operational costs while offering an exclusive level of customer service. 
As one more advantage, AI Bank Consultant always provides consistent information for a customer, eliminating human bias and mistakes. Clients get complete guidance and clear instructions throughout the whole process of communication with bank support, which improves its quality and ensures customer satisfaction.
Also, AI-driven bankers guarantee accuracy since they are able to comprehensively review information like pay stubs, tax documents, debt accounts, and other papers that determine eligibility, doing this much quicker than a human customer agent.
Moreover, AI avatars can be easily scaled up or down to accommodate changing customer demands, enabling banks to provide a flexible and responsive support experience. This means that a digital Bank Consultant will automatically gain more resources during peak hours to handle larger workloads and more complex tasks. And if the number of inquiries is low, it will consume less power, memory, and storage, thus saving costs for its maintenance.
Watch the following video presentation of AI-driven Bank Consultant for a better understanding of how it performs:
AI-powered Customer Service Solutions for Banks by RAVATAR
Depending on the bank's needs and the desired way of integration, RAVATAR can offer three different solutions for AI Bank Consultant implementation within the bank's customer service system: 
1. On-site information desk

An AI avatar can welcome clients upon entering the bank office, serving as an informative desk consultant. It can assist in selecting the appropriate services and direct clients to the relevant specialist, assigning a queue number (if required). Alongside this, AI bankers can assess customer needs and give information on potential solutions – for example, if a client has inquiries about loan and credit applications, a digital Bank Consultant can offer guidance on the application process, required documentation, and approval criteria.

2. Online customer support

As an online customer service agent, an AI banker can greet customers directly on a bank website or inside the user's web cabinet. With this solution, AI Bank Consultant does not access clients' personal information but serves as a guide through available bank services and web-panel functions, offering intelligent and adaptive responses to the most common questions. For example, it can give information on legal and regulatory requirements or provide instructions on performing basic account management tasks (like checking account balances, transferring funds, updating personal information, etc.).

Herewith, AI-powered digital bank clerks strictly adhere to the bank's service instruction manual and are able to quickly handle the majority of inquiries without involving human specialists.

3. Client landing system

If integrated with the existing bank customer base, an AI Bank Consultant avatar can lead potential new clients through the entire registration process, including KYC (customer identity verification). 

Upon successful enrollment, an AI Banker will present a customer with the list of available bank services, offering detailed information on each of them and assisting in activating the required ones. Also, with comprehensive access to clients' data, this digital assistant can help with various personal matters, such as resolving billing disputes, reporting lost or stolen cards, and troubleshooting technical issues specific to individual users.

When opting for this solution, you can be assured that the provided customer support is maximally personalized since AI avatars have the capability to instantly analyze clients' data, identify their preferences and investment possibilities, and give them tailored financial advice. 
Existing Use Cases
Within the world bank practice, similar AI-powered consultancy solutions are already used in various banks, showing high effectiveness and bringing funds to their companies.
Here are just a few examples of such implementations: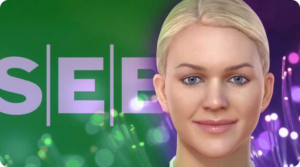 The Aida chatbot is an artificially intelligent customer service representative that has been operating since 2017 and solves about 13% of the bank's IT support issues, helping customers with card problems, account inquiries, and reservations.
Fatema | Bank ABC (MENA region)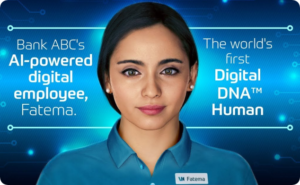 Fatema, the fully autonomous AI-driven digital human, is designed to provide personalized customer service. With an AI-powered digital brain, Fatema learns and responds to customers individually, enhancing the mobile-only bank's customer service.
Bu Hamad | Mada (Assistive Technology Center – Qatar)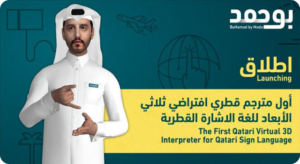 The first Qatari 3D avatar for Qatari sign language interpretation as a part of the Mada Innovation Program. The 3D avatar contains 4500 Qatari Sign Language phrases and is currently being actively integrated into the local banks.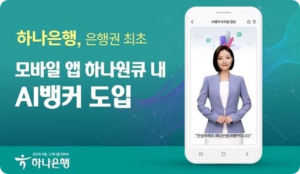 Hana OneQ represents the first case where AI Human technology was implemented within a mobile app for the Fintech sector and in Kiosks within offline bank branches. It utilizes the Generative Adversarial Network (GAN) algorithm and deep learning-based image synthesis technologies to provide a maximally realistic human-machine communication experience.
These examples prove the effectiveness and positive impact of AI-driven consultancy solutions in various banks, which not only enhance customer satisfaction but also contribute to long-term business success.
Conclusion
As you can discern, the AI-driven Bank Consultant solution represents a noteworthy advancement in the cutting-edge technologies realm, aimed at streamlining customer service processes and cultivating a strong user affinity for a bank, ultimately leading to sustained business growth. We at RAVATAR are sure this will change the way both customers and bankers approach banking.
Do not hesitate with your decision – contact us, and we'll help you evaluate the costs of AI-driven assistant integration into your bank system and gladly answer all your questions!