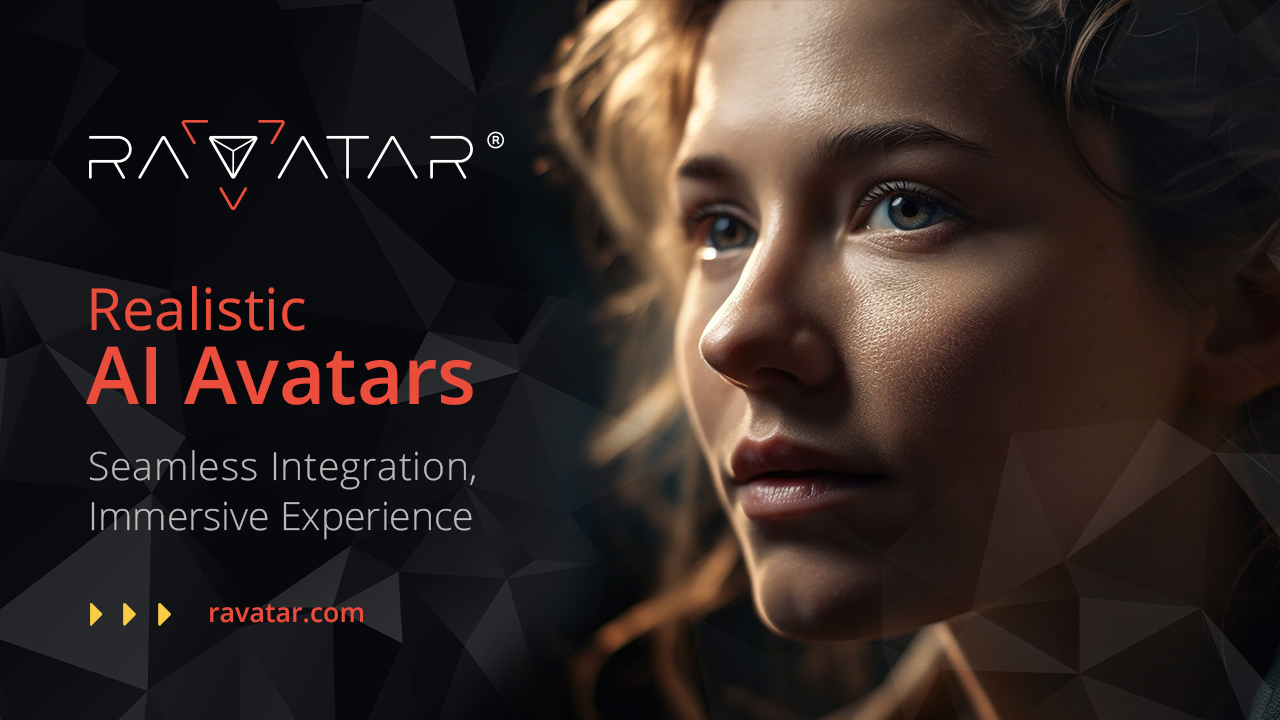 [Limassol, 6 July 2023] – RAVATAR, a groundbreaking project by Cyber Leo, is proud to announce its emergence as a visionary solution that leverages realistic AI avatars to raise the bar for digital interactions. Blending the latest advancements in artificial intelligence and digital human technologies, RAVATAR Avatars-as-a-Service (AaaS) is set to transform the way businesses and individuals connect, engage, and communicate in the virtual realm.
As the world becomes increasingly interconnected and virtual interactions are regarded as a new norm, RAVATAR is at the forefront of revolutionizing the concept of digital presence. Serving as a comprehensive system integration platform, RAVATAR brings together multiple 3rd party services for video and 3D avatars generation, LLM (Large Language Model) and GPT (Generative Pre-Trained Transformers) solutions, and different communication interfaces like holographic devices and messengers. 
Such technology combination enables customers to craft and integrate realistic, human-like AI avatars within existing business processes and systems while simultaneously elevating their virtual experiences to unprecedented levels of personalized engagement, authenticity, and immersion.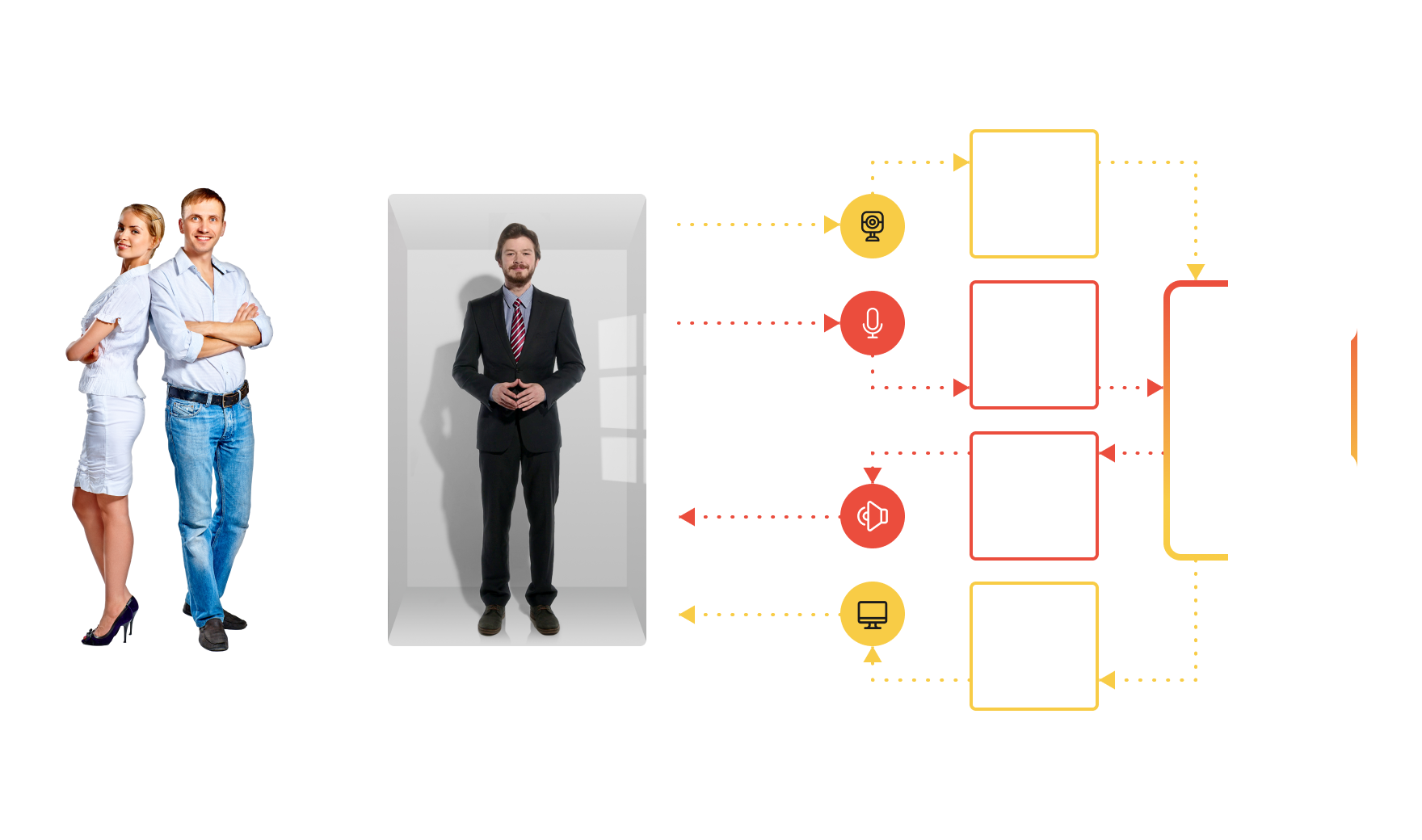 Key Features and Capabilities:
Realistic Human-Like Appearance: RAVATAR's advanced solution seamlessly merges the virtual and real worlds, creating lifelike digital human representations. Our avatars possess human-like features, expressions, movements, and even behaviors, ensuring an immersive and interactive experience.
Customization and Personalization: RAVATAR offers extensive customization options, allowing businesses and individuals to create avatars that align perfectly with their brand identity or personal preferences. From appearance to behavior, every aspect of the avatar can be tailored to create a unique and compelling presence.
Enhanced Engagement and Communication: By harnessing the power of AI, RAVATAR avatars can engage in real-time interactions, responding intelligently to questions, comments, and inquiries. The avatars create a sense of connection and intimacy, fostering impactful and memorable interactions with users.
Ease of use: As a low-code/no-code solution, RAVATAR is designed to be effortlessly integrated and utilized by businesses and individuals with no technical expertise. Our streamlined approach eliminates the need for complex setup or extensive coding knowledge, ensuring that the power of realistic AI avatars is accessible to everyone.
Integration and Scalability: RAVATAR avatars can be seamlessly integrated across various informational systems and platforms, including websites, social media, virtual events, info kiosks, and more. And thanks to their scalable nature, these AI-powered digital assistants unlock unparalleled cost-efficiency by dynamically allocating resources and adapting to varying levels of demand.
Multilingual Support: RAVATAR empowers businesses to connect with a global audience by enabling AI-powered digital humans to speak natively in all major languages. This ensures seamless and engaging communication across diverse cultures and regions, nurturing deeper connections and creating meaningful experiences that resonate with customers on a global scale.
AI-Driven Analytics and Insights: RAVATAR provides valuable data and analytics on user interactions, helping businesses gain insights into audience engagement, preferences, and behaviors. Such data-driven assistance drives the optimization of marketing strategies, content creation, and overall user experience.
"We are thrilled to introduce the RAVATAR project to the world, a pioneering AaaS platform that aims to redefine the concept of digital presence," said Ruslan Synytsky, CEO at Cyber Leo and a serial IT entrepreneur. "Our expertise in AI Avatars' integration into different systems enables customers to streamline time-to-market and cost-effectiveness by combining the most exceptional market solutions available."
For more information about RAVATAR and its innovative solutions, please visit https://ravatar.com/ or contact info@ravatar.com.
About RAVATAR:

RAVATAR is a technology project specializing in the seamless incorporation of realistic AI avatars. With a passion for pushing boundaries and reimagining digital presence, this solution aims to empower businesses and individuals with cutting-edge virtual human technology. Through advanced customization, interactivity, multilingual support, and ease of integration, RAVATAR enables immersive and impactful online experiences for customers all around the globe.
For media inquiries, please contact:
Oleg Avershyn
Head of Marketing
oa@ravatar.com