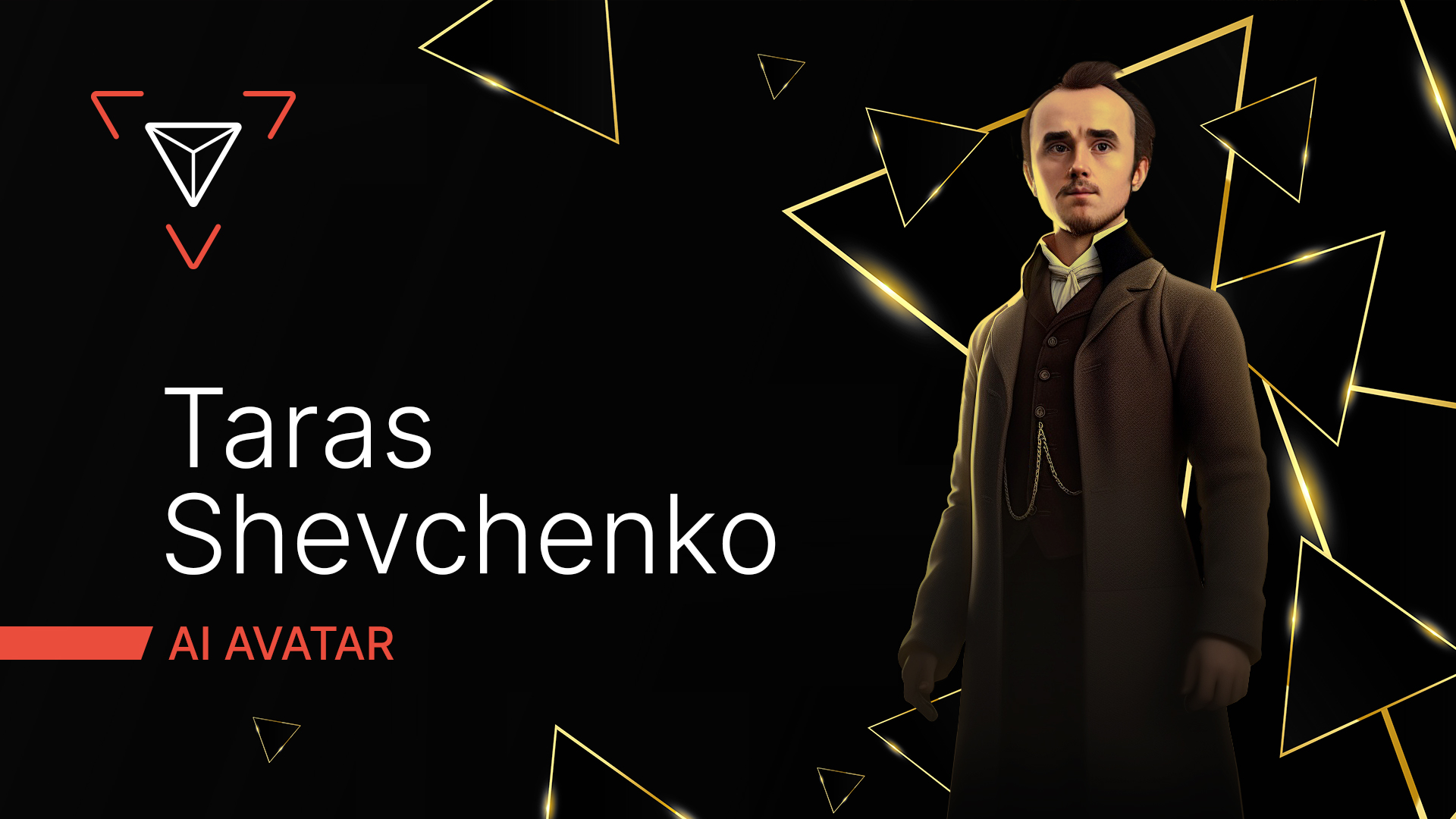 [Limassol, 02 October 2023] – Over the past few months, the dedicated RAVATAR team has poured their hearts and minds into an extraordinary project – the creation of the first-of-a-kind digital resurrection of Taras Shevchenko, embodied in an AI avatar. Today, we proudly announce its release, marking a groundbreaking fusion of artificial intelligence and profound cultural immersion.
This monumental endeavor was made possible through a collaborative effort between RAVATAR, the Stus Center, and the Taras Shevchenko National Museum (Ukraine). The outcome is an AI personality that not only faithfully replicates Shevchenko's appearance and mannerisms but also possesses a vast knowledge base on his extensive body of works, encompassing poetry, prose, and paintings. What's more, this AI avatar speaks the voice of Dmytro Stus – a direct descendant of the renowned Ukrainian dissident and poet Vasyl Stus, who has dedicated more than a decade to preserving Ukraine's rich historical heritage as the General Director of Taras Shevchenko National Museum.
"A modern approach is essential for Ukrainian culture to captivate the youth and the world. This involves high-quality content translation, advanced technology, and engaging formats," says Dmytro. "The fusion of the 'Immersive World' video format with Shevchenko's artificial intelligence-enhanced avatar serves as both a cultural ambassador and a showcase of Ukraine's technological prowess."
Ruslan Synytsky, CEO and Founder of RAVATAR, emphasizes the importance of this project: "Shevchenko's significance in the heart of every Ukrainian cannot be underestimated. We wanted to pay homage to his enduring legacy in a manner befitting the 21st century. Our AI avatar of Shevchenko isn't merely a technological marvel; it's a symbol of the timeless impact of his work."
The Taras Shevchenko AI avatar's unveiling will coincide with 'Shevchenko's Immersive World' – an awe-inspiring show that represents Ukraine's unwavering commitment to preserving and innovating its abundant cultural inheritance. This groundbreaking project has come to fruition thanks to the visionary initiative of our esteemed partners – "GULLIVER Shopping and Entertainment Center" and Yuriy Piskoviy, founder of Memoryon. The grand ceremony is set for October 4th at the prestigious GULLIVER SEC, whose magnificent facade, boasting an impressive LED screen spanning nearly 4,000 square meters, will serve as the canvas for an unprecedented digital experience.
During this mesmerizing performance, RAVATAR's Shevchenko AI avatar will command the stage with a poignant address to the Ukrainian people, ensuring not just a visual spectacle but a deeply emotional experience for the audience. The event will culminate in an immersive video presentation showcasing Shevchenko's timeless artistic masterpieces. We warmly invite you to join us at this gathering and engage with the rich heritage of Ukrainian culture and history!
For more information about RAVATAR and its innovative solutions, please visit https://ravatar.com/  or contact info@ravatar.com.
About RAVATAR
RAVATAR is at the forefront of virtual human technology. In a pursuit to reshape the digital realm, we offer hyper-realistic AI avatars, empowering both businesses and individuals to redefine online interactivity and experiences. Our expertise encompasses advanced customization, multilingual support, and seamless integration. With RAVATAR, the future of virtual interaction is not just near; it's already here.
For media inquiries, please contact:
Oleg Avershyn
Head of Marketing
oa@ravatar.com