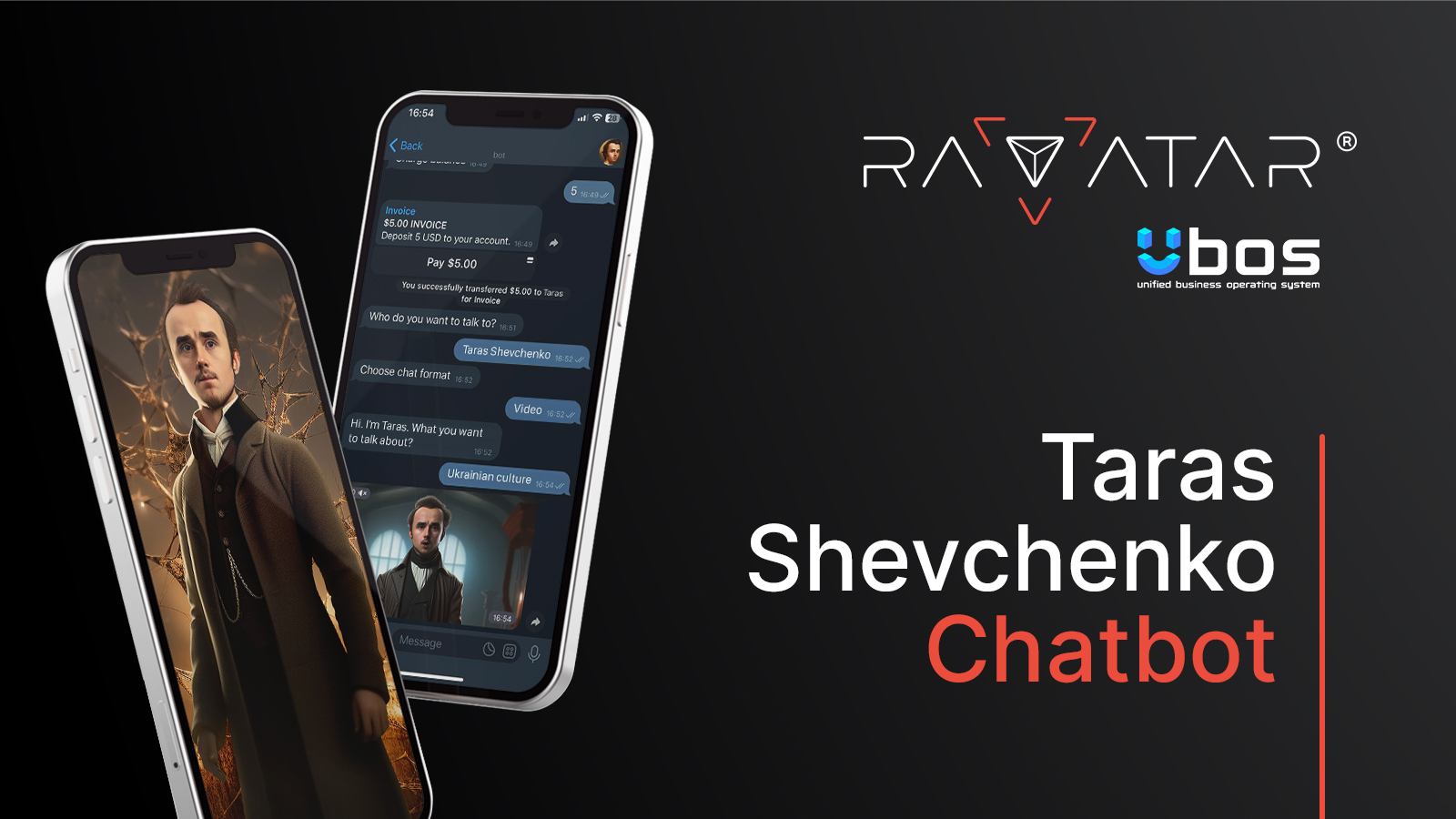 [Limassol, 05 October 2023] — Just yesterday, the RAVATAR team unveiled the Taras Shevchenko AI during a spectacular performance at the 'Gulliver Shopping and Entertainment Center', where the 'Shevchenko Immersive World' event set the scene for our AI avatar to take center stage and herald the grand opening of this splendid occasion.
Furthering our unwavering commitment to preserving Ukraine's rich cultural heritage through the symbolic figure of Taras Shevchenko, today we are thrilled to introduce to the public the Taras Kobzar Bot. This innovative Telegram chatbot is a product of the collaborative endeavors between the RAVATAR AI system integrator and the UBOS no-code/low-code platform, which marks an essential milestone in our collective venture.
An Interactive Journey with Taras Shevchenko
This pioneering chat companion presents a unique opportunity for 'live' interactions with a digital recreation of the celebrated Ukrainian kobzar. It invites you to personally connect with history and immerse yourself in the profound legacy of Ukrainian culture. Delve into a treasure trove of information about Shevchenko's biography, his literary and artistic works, as well as Ukraine's history and national ideals – all within our next-generation offering serving as an educational resource for those eager to unravel the rich tapestry of Ukraine's cultural heritage.
Cutting-Edge AI Powering 
Our digital rendition of Shevchenko is driven by state-of-the-art AI technologies, including the Generative Pre-trained Transformer neural network model, Conversational AI, and Generative AI. Remarkably, it boasts proficiency in understanding over 50 languages yet remains loyal to speaking Ukrainian as a tribute to Shevchenko's devotion to his Motherland.
Connecting on Multiple Levels
To deepen the immersion and deliver the most authentic conversational encounters, the Taras Kobzar Bot is designed to respond through a diverse array of mediums, seamlessly integrating text, voice, and video interactions. This multifaceted approach elevates every conversation, turning it into a dynamic and lifelike interaction that engages your perception, creating a profound connection with the digital representation of Taras Shevchenko.
Join Us on This Adventure
As a warm welcome gesture, we are offering an initial bundle of complimentary interactions for all newcomers – access the bot for the first time and receive 10 text messages, 5 voice messages, and 1 video message to kickstart your exploration of this digital wonder. So don't miss the opportunity to converse with the wisdom of a Ukrainian national icon that has transcended centuries – visit https://ravatar.com/taras-shevchenko-ai/ and launch the Taras Kobzar Bot today to embark on an interactive journey into the heart of Ukrainian culture!
About RAVATAR 
RAVATAR is a pioneering AI technology company specializing in creating lifelike digital avatars and AI-driven solutions for diverse applications, from entertainment and customer support to healthcare and personal assistance, designed to bridge the gap between the digital and physical worlds.
For media inquiries, please contact:
Oleg Avershyn
Head of Marketing
oa@ravatar.com